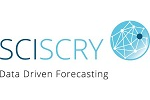 SciScry GmbH
SciScry is your partner for forecasting your business performance descriptively and prescriptively. We show you today what is likely to happen to your business tomorrow and give you the opportunity to act on that information. With advanced machine learning algorithms as well as the integration of 3rd party information into our platform it allows more accurate views into the future with our automated forecasting solution.
We find dependencies and patterns in your data, and use this information to support your planning process with a quantitative forecast. With 3rd party information we derive a refined prediction, and put your reporting in a meaningful context. We replace "guessing" with scientific methods, and provide you the toolset to harness the full power of your data!
Have you already transformed your planning processes into the age of digital data driven forecasting?